Pulmonary Function Tests (PFT)
What Are Pulmonary Function Tests (PFTs)?
PFTs, or pulmonary function tests, are also known as lung tests. They indicate how well your lungs function. They are noninvasive, meaning the doctor does not cut you or insert instruments into your body.
Spirometry is the most basic examination. The amount of air the lungs can contain is determined by this test. The test also measures the ability to forcefully expel air from the lungs.
Spirometry is utilized to check for lung volume-affecting disorders. Additionally, it's utilized to check for conditions like COPD or asthma that affect the airways.
Another common lung function test is lung volume testing. It measures the volume of air in the lungs, including the air that is still present after a typical breath and is more accurate than spirometry. A diffusing capacity test also gauges the ease with which oxygen enters the bloodstream. Exercise testing aids in identifying the reasons for breathlessness. When the findings of the standard breathing test are normal, there are further tests to determine if the patient has asthma.
Why Are The Pulmonary Tests Performed?
Lung examinations can help physicians diagnose lung illnesses such as:
Allergies

Asthma

Chronic bronchitis

COPD or chronic obstructive pulmonary disease (COPD)

Lung scarring or damage

Sarcoidosis, a cluster of inflammatory cells surrounding organs

Lung cancer

Infections

Airways that are thickened, stretched, or enlarged

Connective tissue thickening and stiffening (scleroderma)

Lack of strength in the chest wall muscles
A diagnosis is necessary for proper treatment.
What To Expect?
These examinations are painless. They are administered by a pulmonary function technologist, who will instruct you to exhale and inhale with maximum effort. Multiple tests are conducted to ensure that the results are accurate. When conducting the test, keep in mind the following:
Unless instructed otherwise, you should take your daily prescriptions prior to testing.

Do not smoke for a minimum of six hours before testing.

If feasible, do not use a short-acting inhaler for six to eight hours before a test if you are using one.

Your physician may provide you with additional medication instructions.
You should plan to wear loose-fitting, comfortable clothing and athletic shoes for the exercise test, which will be completed on a bike or treadmill.
You will be connected to a heart monitor and blood pressure metre during the test to check your vital signs and will receive additional preparation instructions for this exam at the time it is ordered.
Department of Pulmonary Medicine & Critical Care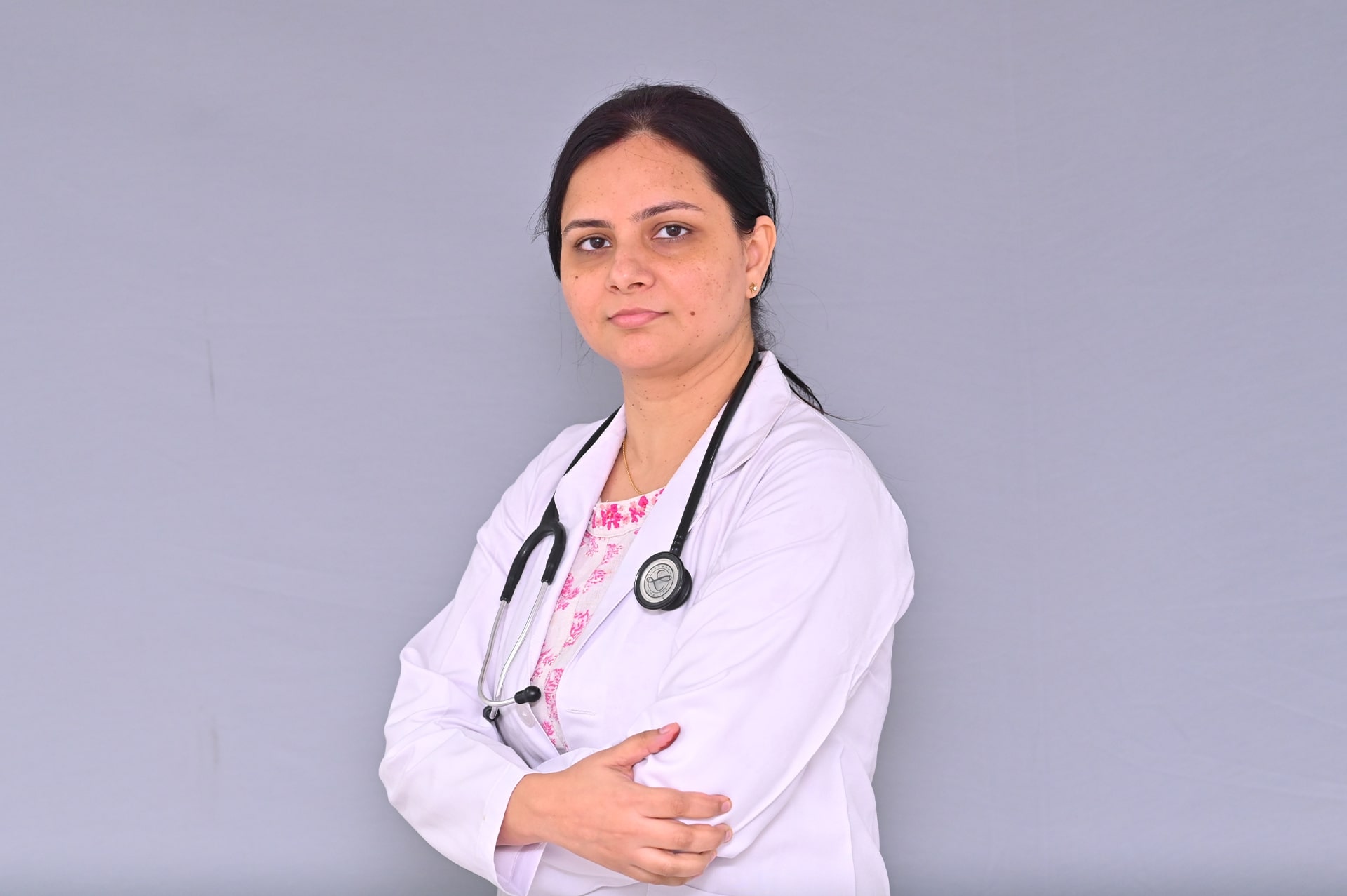 Department of Pulmonary Medicine is lead by:
Dr. Diksha Tyagi
Senior Consultant, Pulmonary & Critical care Medicine
MBBS, MD, DM (Pulmonary & Critical Care Medicine)
EDRM (European Diploma of Adult Respiratory Medicine)
Dr Diksha Tyagi is the first DM in Pulmonary & Critical Care Medicine in Meerut. She is heading an exclusively dedicated interventional pulmonology unit in Meerut. She is doing all the basic and advanced bronchoscopic procedures like fibreoptic bronchoscopy, EBUS guided FNAC and biopsy, Pleuroscopy and Rigid Bronchoscopy.
She has clinical experience of more than 12 years in diagnosis and management of various respiratory diseases. She is extensively trained in critical care unit in managing patient on invasive and non- invasive mechanical ventilation. She is known for her passionate and humble nature with excellent communication skills.
Member of Indian chest society, Indian society of Critical Care Medicine, Indian society of Asthma, allergy and applied immunology, National college of chest physician and Indian society of lung cancer.
She was previously associated with prestigious All India Institute if Medical Sciences (AIIMS) New Delhi and Post Graduate institute of Medical Sciences (PGIMS) Rohtak.
Expert Management in:
Asthma & Allergy

Chronic Obstructive Pulmonary Diseases

Interstitial Lung Diseases

Lung Cancer

Tuberculosis

Occupational Lung disease

Pleural Diseases

Pneumonia

Pulmonary thromboembolism

Pulmonary Hypertension

Sleep disorders
Interventional Pulmonary services:
Flexible bronchoscopy

Rigid bronchoscopy

Medical Thoracoscopy/ Pleuroscopy

Endobronchial ultrasound (EBUS) guided FNA/ biopsy

Paediatric bronchoscopy and foreign body removal

Tracheal stenting

Endobronchial tumor debulking
Complete Pulmonary Function Testing:
Spirometry

Diffusion Lung Capacity (DLCO)

Lung Volumes
Visit Us
KH-1453, Daurala, NH-58,
Near Sivaya Toll Plaza,
Roorke Road, Meerut (U.P.)
PIN-250221