Is One of The Most Renowned Gastroenterologists in India
An Expert
In endoscopic interventions who has executed over 2 Lac endoscopic procedures.
An Unmatched Experience
of More Than 26 Years!
A Name Everyone Trusts!
Dr. Malay Sharma has trained more than 100 gastroenterologists worldwide!
Dr. Malay Sharma's Unmatched Achievements In The Medical Field
Including
250 Research Works
with 1027 citations & 7286 reads
An Experience
You Can Bank On
Experience
of Over 26 Years!
Contributed
To Over 119 Articles
Published in National & International Journals
Is Also The
Primary Author
Of The Book "Endoscopic Ultrasound, How To Do?"
A Pioneer In EUS
Who Has Trained
Over 100 Gastroenterologists From India & Abroad
Has Done
Over 2 Lakh
Endoscopic Procedures Till Date
Dr. Malay Sharma's
Qualifications:
MD(Medicine), DM (Gastroenterology)
Director
Gastroenterology
Department of GI Surgeries / Laparoscopic Surgeries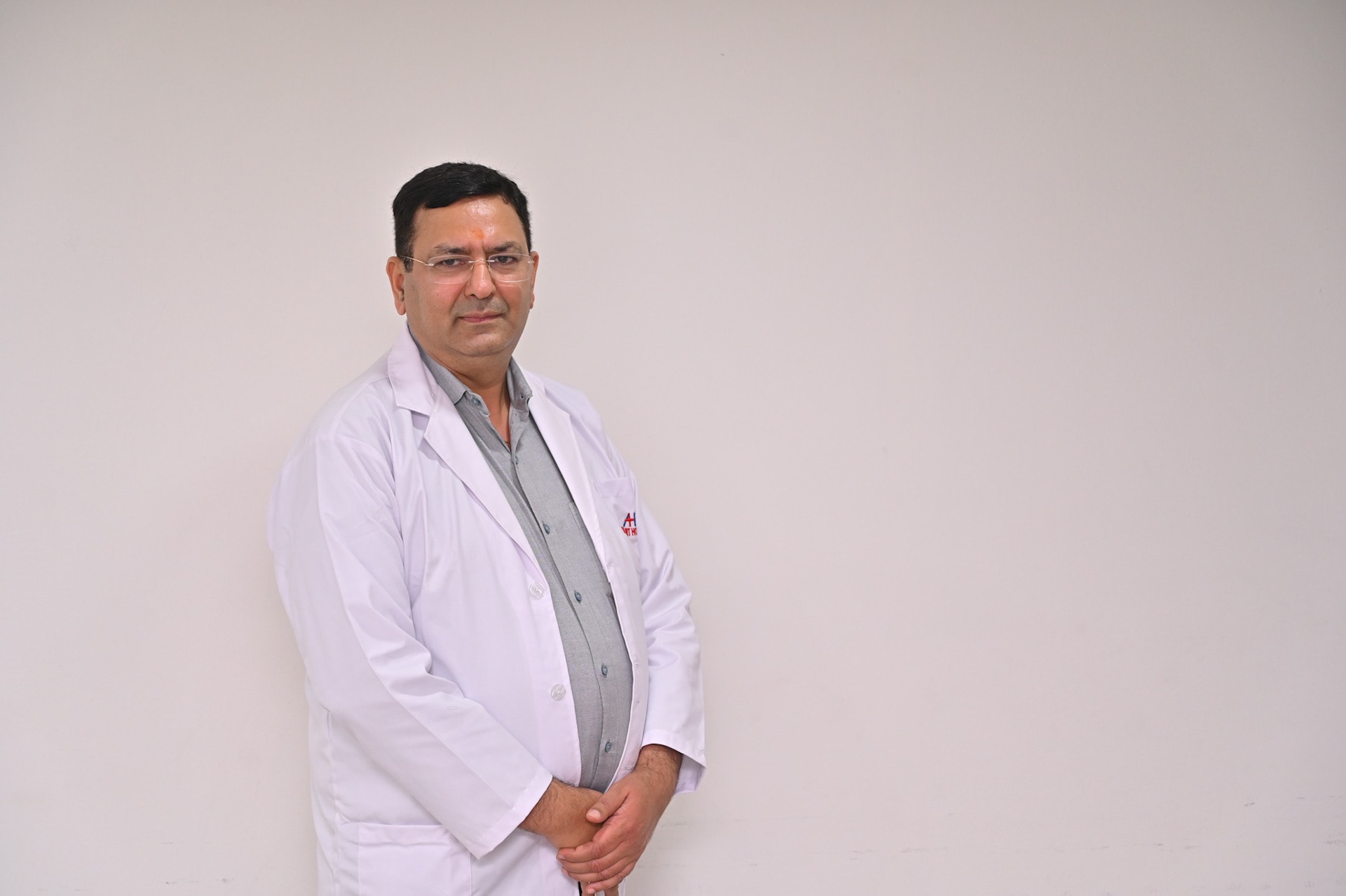 Department of GI Surgeries / Laparoscopic Surgeries is lead by:
Dr. Rajesh Kapoor
MBBS, MS-General Surgery, MCh-Surgical Gastroenterology
28 Years of Practice, 1 Awards Surgical Gastroenterologist
Dr Rajesh Kapoor Mch is senior consultant, Dept. of GI and HPB surgery, Aryavart Multispecialty Hospital, Meerut. He specialises in a wide range of diseases and his interest lies in GI Oncology, HPB Surgery, Bariatric & Metabolic Surgery, and Laparoscopic Colorectal Surgery etc. In his extended experiences, the doctor has served for top notch medical facilities in India and gained specialized exposure.
MBBS, MS-General Surgery, MCh-Surgical Gastroenterology
28 Years of Practice, 1 Awards Surgical Gastroenterologist
Dr. Rajesh Kapoor is an MBBS, MS in General Surgery and MCh in Surgical Gastroenterology from Sanjay Gandhi Post Graduate Institute of Medical Sciences Lucknow. Dr. Rajesh Kapoor is also the member of many renowned medical societies and associations like the Association of Surgeons of India, Association of Indian Society of Gastroenterology, Society of Gastrointestinal Endoscopy of India, Indian Association of Surgical Gastroenterology, Indian Chapter of International HPBA, and Indian Pancreatic Club.
Department of Pulmonary Medicine & Critical Care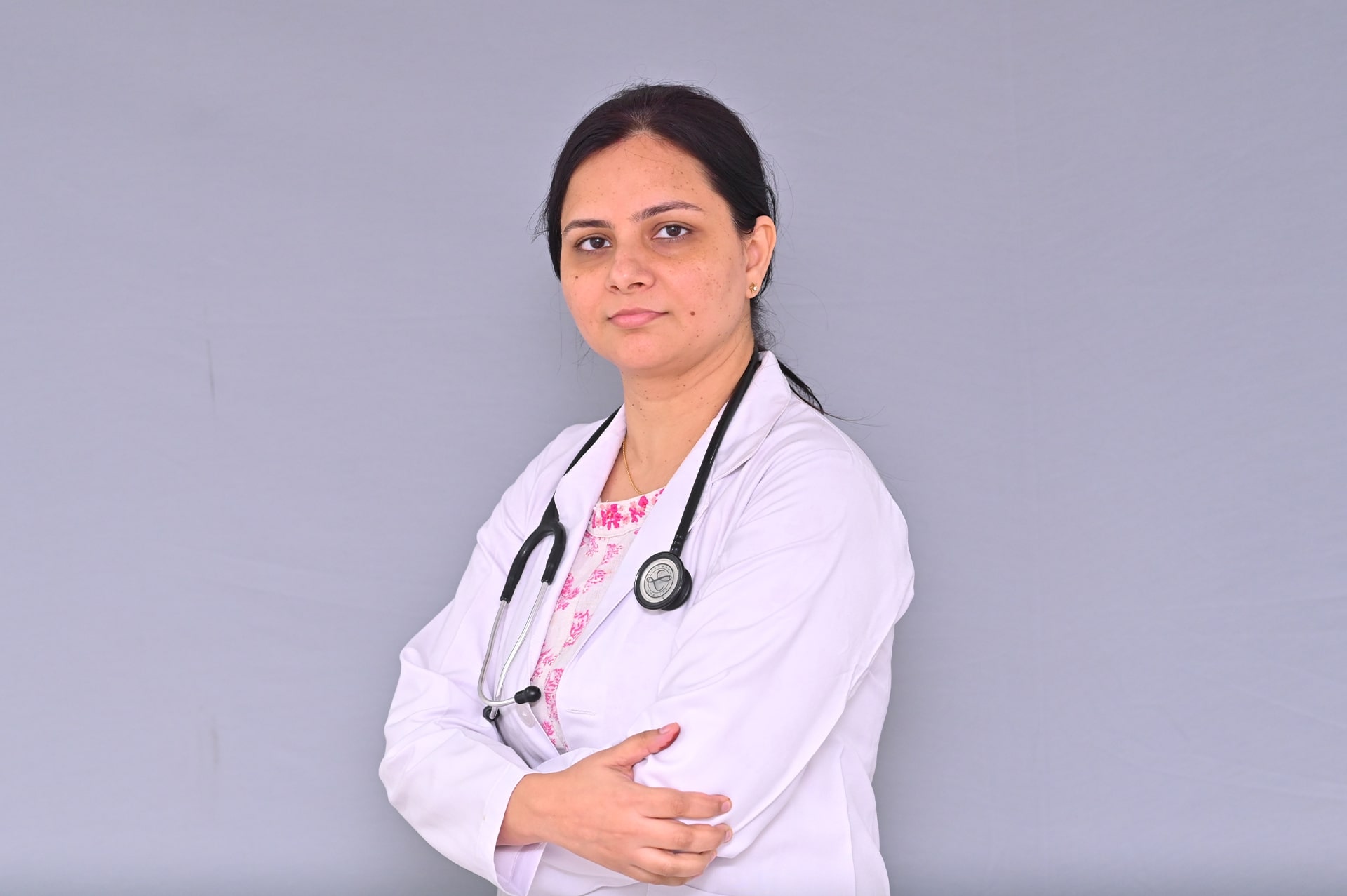 Department of Pulmonary Medicine is lead by:
Dr. Diksha Tyagi
Senior Consultant, Pulmonary & Critical care Medicine
MBBS, MD, DM (Pulmonary & Critical Care Medicine)
EDRM (European Diploma of Adult Respiratory Medicine)
Dr Diksha Tyagi is the first DM in Pulmonary & Critical Care Medicine in Meerut. She is heading an exclusively dedicated interventional pulmonology unit in Meerut. She is doing all the basic and advanced bronchoscopic procedures like fibreoptic bronchoscopy, EBUS guided FNAC and biopsy, Pleuroscopy and Rigid Bronchoscopy.
She has clinical experience of more than 12 years in diagnosis and management of various respiratory diseases. She is extensively trained in critical care unit in managing patient on invasive and non- invasive mechanical ventilation. She is known for her passionate and humble nature with excellent communication skills.
Member of Indian chest society, Indian society of Critical Care Medicine, Indian society of Asthma, allergy and applied immunology, National college of chest physician and Indian society of lung cancer.
She was previously associated with prestigious All India Institute if Medical Sciences (AIIMS) New Delhi and Post Graduate institute of Medical Sciences (PGIMS) Rohtak.
Expert Management in:
Asthma & Allergy

Chronic Obstructive Pulmonary Diseases

Interstitial Lung Diseases

Lung Cancer

Tuberculosis

Occupational Lung disease

Pleural Diseases

Pneumonia

Pulmonary thromboembolism

Pulmonary Hypertension

Sleep disorders
Interventional Pulmonary services:
Flexible bronchoscopy

Rigid bronchoscopy

Medical Thoracoscopy/ Pleuroscopy

Endobronchial ultrasound (EBUS) guided FNA/ biopsy

Paediatric bronchoscopy and foreign body removal

Tracheal stenting

Endobronchial tumor debulking
Complete Pulmonary Function Testing:
Spirometry

Diffusion Lung Capacity (DLCO)

Lung Volumes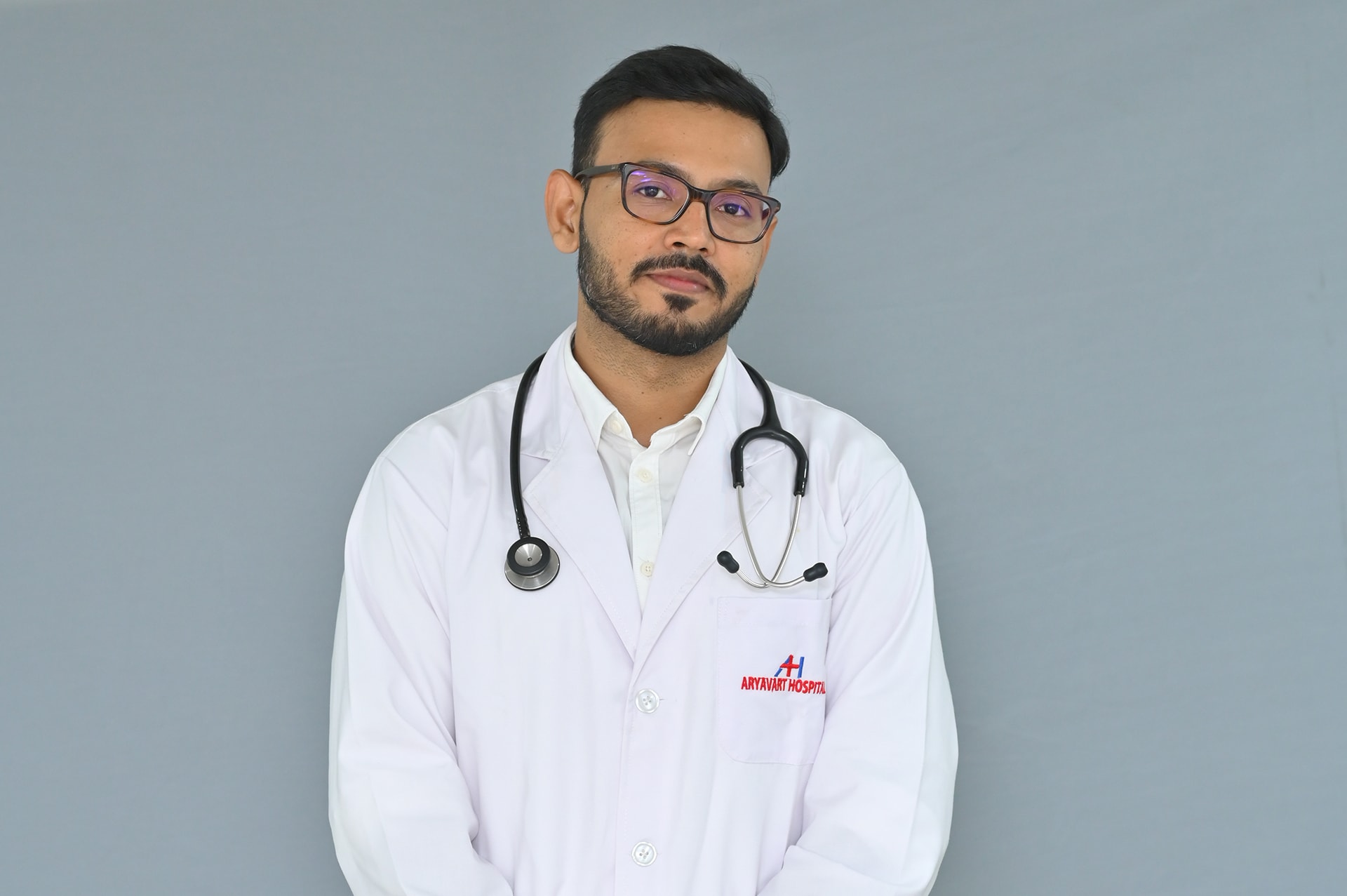 Department of Medicine is lead by:
Dr. Varun Tyagi
MBBS, MD(Internal Medicine), PGDCC, Post Graduate Diploma in Diabetology
Consultant Physician and Diabetologist
Assistant Professor in Medicine at NCR Institute of Medical Sciences, Meerut
Previously rendered services at some of the most esteemed institutions like SAFDARJUNG HOSPITAL, PGIMER and Dr RML HOSPITAL, New Delhi. Also served as Junior Consultant at Max Hospital, Delhi and a Senior Physician at Yashoda Hospital, Ghaziabad.
Presently working as a Consultant in many hospitals around Meerut.
Special field of interest include Diabetes and Thyroid disorders.
An experienced doctor trying to provide quality yet pocket friendly services to his patients for the past ten years.
Diabetes
Thyroid disorders
Neurological diseases
Cardiac disorders
Infectious diseases
Respiratory diseases
Critical illnesses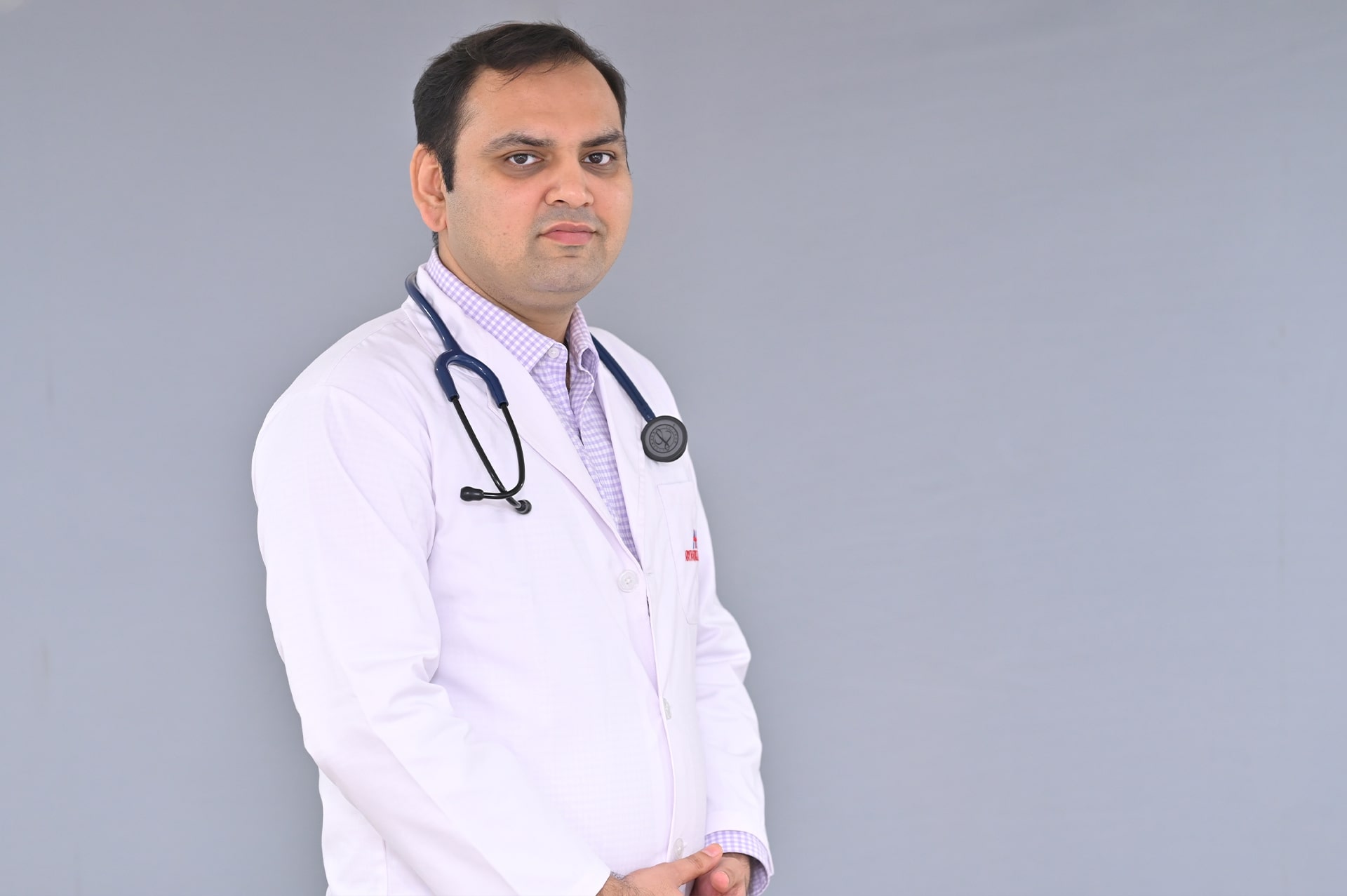 Department of Nephrology is lead by:
Dr. Puru Tyagi
DM (Nephrology), Kidney & Transplant Physician
Dr Puru Tyagi is a nephrologist and Transplant Physician with keen interest in Diabetic kidney disease, Hypertension, Glomerular diseases and post transplant care.
Under his vision Aryavart boasts some of the most cutting edge techniques in Nephrology including CRRT, Plasmapheresis and target based maintenance hemodialysis.
Apart from extensive experience in Nephrology and internal Medicine, Dr Puru Tyagi also has experience in specialized critical care.
Department of Urology Procedures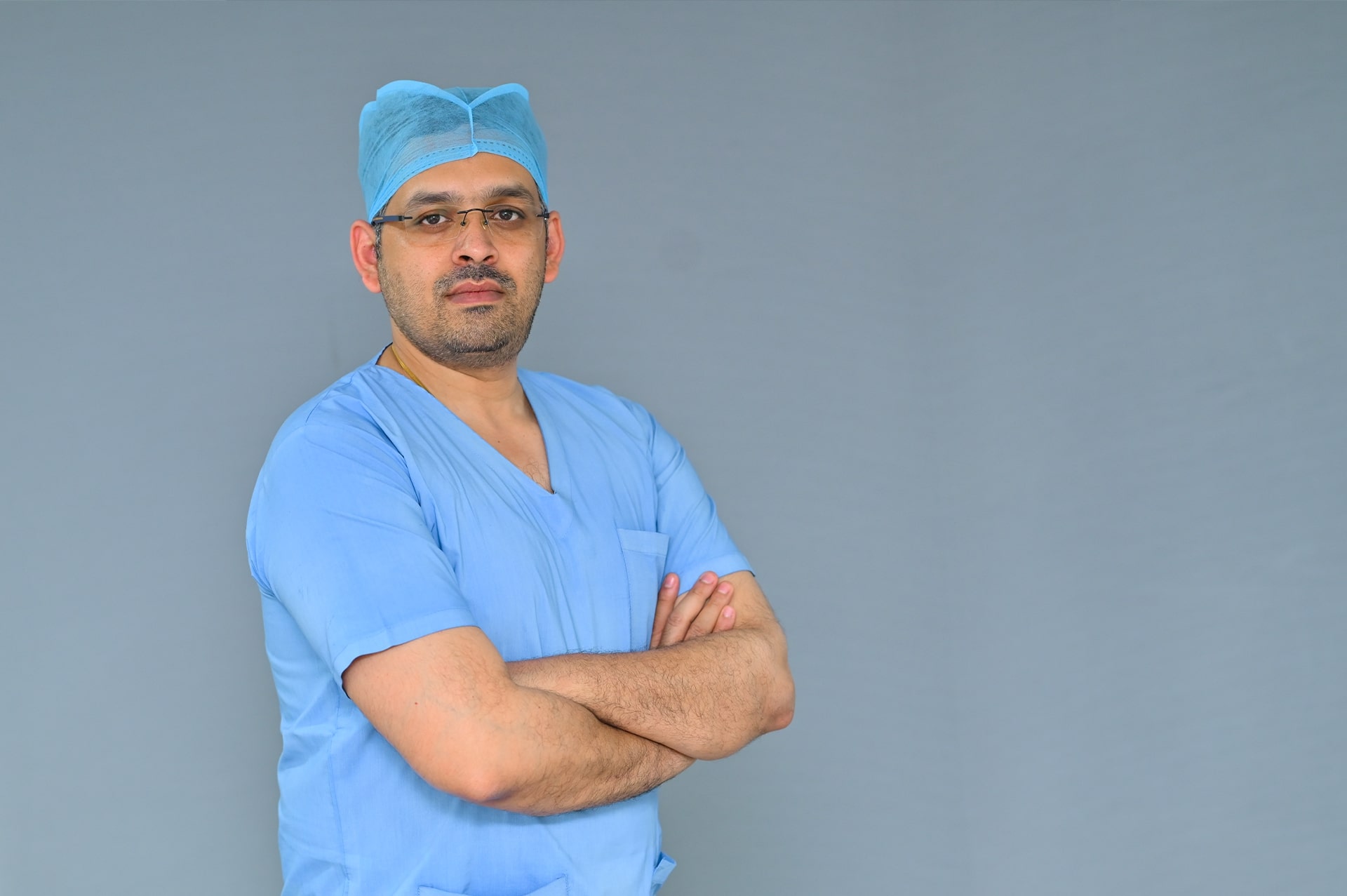 Department of Urology Procedures is lead by:
Dr. Vikas Giri
MS Mch (Urologist)
Senior Urologist (Urosurgeon)
Uro-Cancer Surgeon
Kidney transplant Surgeon
Dr. Vikas Giri is a dynamic, experienced and renowned urologist at Aryavart Hospital and Meerut. He treats surgical diseases, stones and cancers of Kidneys, ureter, urinary bladder, adrenal gland, prostate, urethra, penis and testis.
He is blend of modernity & experience, utilizing
state of art equipment and modern technology to provide quality urological care. He has special interest in modern laser, microscopic, laparoscopic & endoscopic surgeries of urology, uro-cancer surgery & andrology. In near future, Aryavart Hospital is also going to start Kidney transplantation facility.
M.B.B.S.
M.S
M.Ch. Urology – SMS Medical College, Jaipur
Department of Oncology Medicine: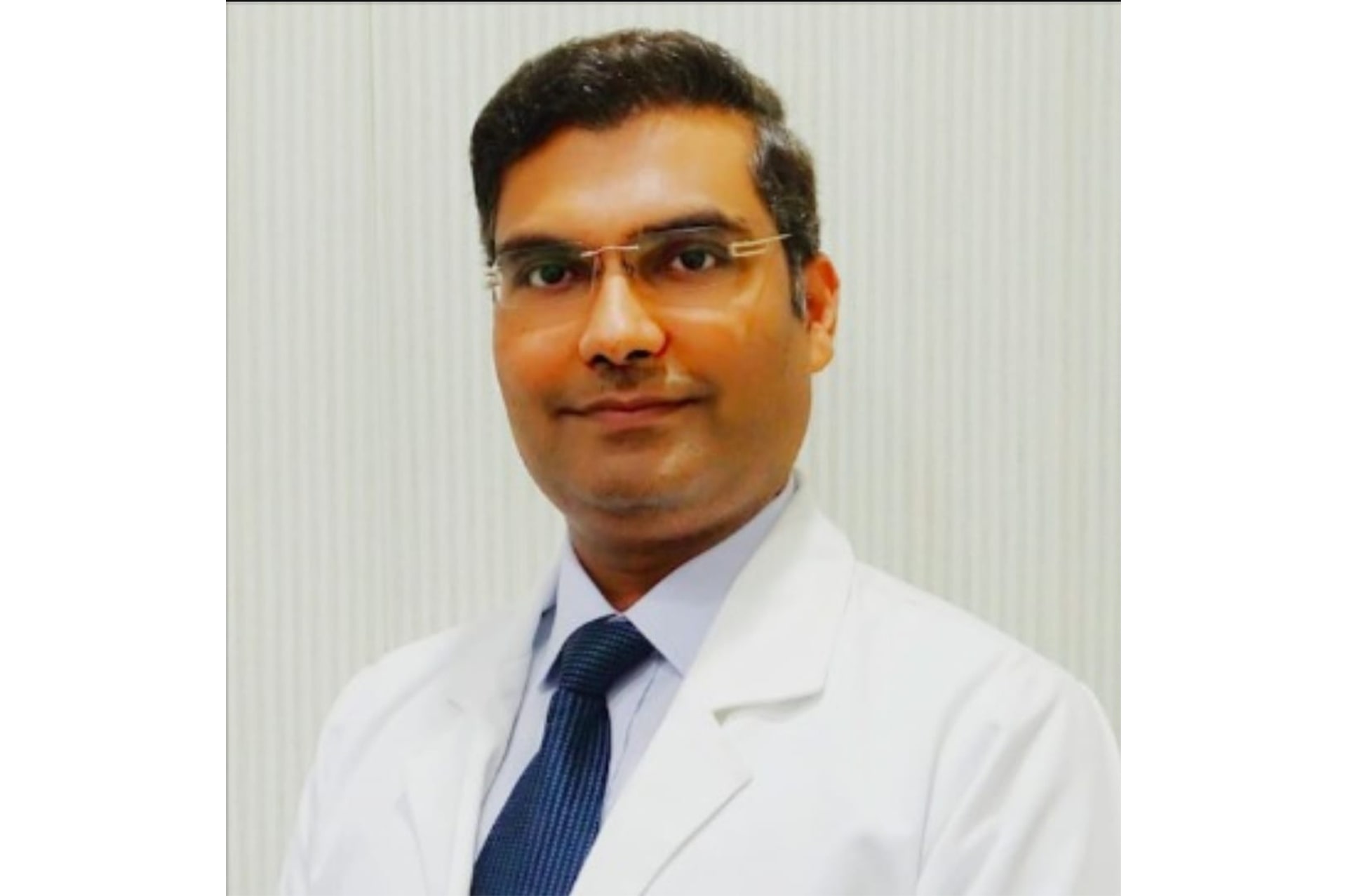 Department of Oncology Medicine is lead by:
Dr. Abhishek Gulia
MBBS, M.D (Gold Medalist), Cancer Specialist
Department of Ultrasound Procedures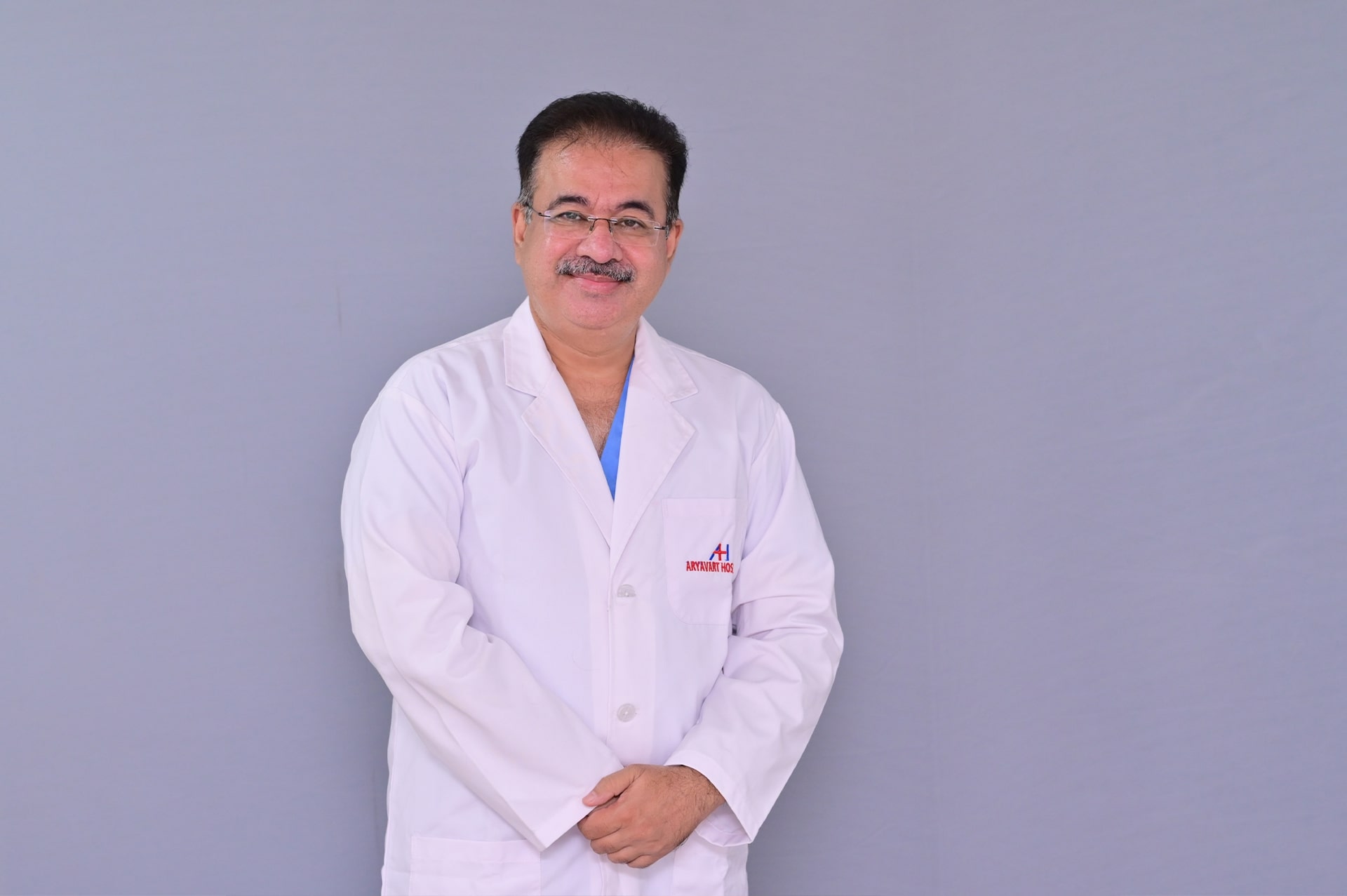 Department of Ultrasound Procedures is lead by:
Dr. Amit Pathak
MBBS, Assam medical College, Dibrugarh, Assam
DMRD, Kasturba Medical College, Manipal, Karnataka
He is a radiologist with more than 25 years of experience in the field of radiodiagnosis and imaging. After completing his studies from Kasturba Medical College, Karnataka, he worked for a year in Delhi at Jaipur Golden Hospital before finally shifting to Meerut in 1995 where he started a private practice. In view of his passion for academics and newer evolving fields of radiodiagnosis, including interventional procedures, he shifted to the premier medical facility of his city, Jaswant Rai Specialty Hospital, in 2001 where he worked as a radiologist in the Department of Radiodiagnosis.
In 2019 he joined Aryavart Hospital established by Dr. Malay Sharma as he had been associated with him through all his long innings as an ultrasonologist in Meerut.
From that time, he has focused exclusively on Gastrointestinal Ultrasonography, Nephrological & Urological Ultrasonography as also non-vascular interventional ultrasonography.
He was an integral part of the evolution of EUS imaging modality, being one of the pioneers of the technique in the Indian subcontinent in coordination with Dr. Malay Sharma. He is one of the few radiologists in the country who is conversant with EUS and EBUS imaging and has created a module of understanding EUS through its correlation with trans-abdominal ultrasonography.
Through his long years of working in the Department of Gastroenterology, he has been instrumental in developing protocols for the use of ultrasonography in ERCP decision making, interaction as well as increasing the efficiency of decision making by linking EUS and trans-abdominal ultrasonography as well as the management of difficult conditions like post-pancreatitis acute fluid collections.
He has been involved in training gastroenterologists as well as radiologists in trans-abdominal ultrasonography for nearly fifteen years and has also undertaken many live and online lectures on various aspects linked to trans-abdominal ultrasonography of the upper abdomen.
MBBS, Assam medical College, Dibrugarh, Assam
DMRD, Kasturba Medical College, Manipal, Karnataka
An ultrasonography case done in our department of Gastroenterology at Jaswant Rai Hospital, Meerut, was the Video of the Month in the prestigious `American Journal of Gastroenterology' in 05-16 – Primary Peritoneal Hydatidosis.
Contributor – book titled `Endoscopic Ultrasonograph'
Other publications:
Journal – Tropical Gastroenterology, 2008 Article – Dead work in common bile duct
Journal – Gastroenterology, Aug, 2009
Article – Endoscopic Ultrasound in CBD Stone,
Journal – Gastrointestinal Endoscopy, Nov, 2009
Article – Perforators of common bile duct wall in portal hypertensive biliopathy (with videos)
Journal – Gastroenterology, Jan 2011
Article – An unusual endoscopic ultrasound image of the common bile duct. Biliary intraductal neoplasia in the choledochal cyst.
Journal – Tropical Gastroenterology, Oct – Dec 2011 Article – Dead worm in common bile duct
Journal – Journal of Advance Researches In Biological Sciences (A Peer Reviewed Indexed Medical Journal). Periodical of Society of Biological Scientists of India, 2013
Article – Ultrasonic Measurement of Common Bile Duct Diameter in an Indian Population
Journal – World Journal of Gastrointestinal Endoscopy, Oct 2015 Article – Imaging of common bile duct by linear endoscopic ultrasound.
Journal – Gastrointestinal Endoscopy, March 2016 Article – Pancreatic duct ascariasis
Journal – American Journal of Gastroenterology, May 2016, Article – Primary Peritoneal Hydatidosis – case of the month.
Journal – Endoscopy, Jan 2016
Article – Endoscopic ultrasound imaging of pancreatic duct ascariasis
Journal – Endoscopic Ultrasound, Nov, 2016
Article – Blind areas of cardiac imaging during transesophageal echocardiogram/endoscopic ultrasound
Journal – Lung India, May – June 2016
Article – Imaging of spaces of neck and mediastinum by endoscopic ultrasound
Journal – Endoscopic Ultrasound, Jan 2016
Article – Imaging of pancreas divisum by linear-array endoscopic ultrasonography.
Department of Interventional Radiology (IR)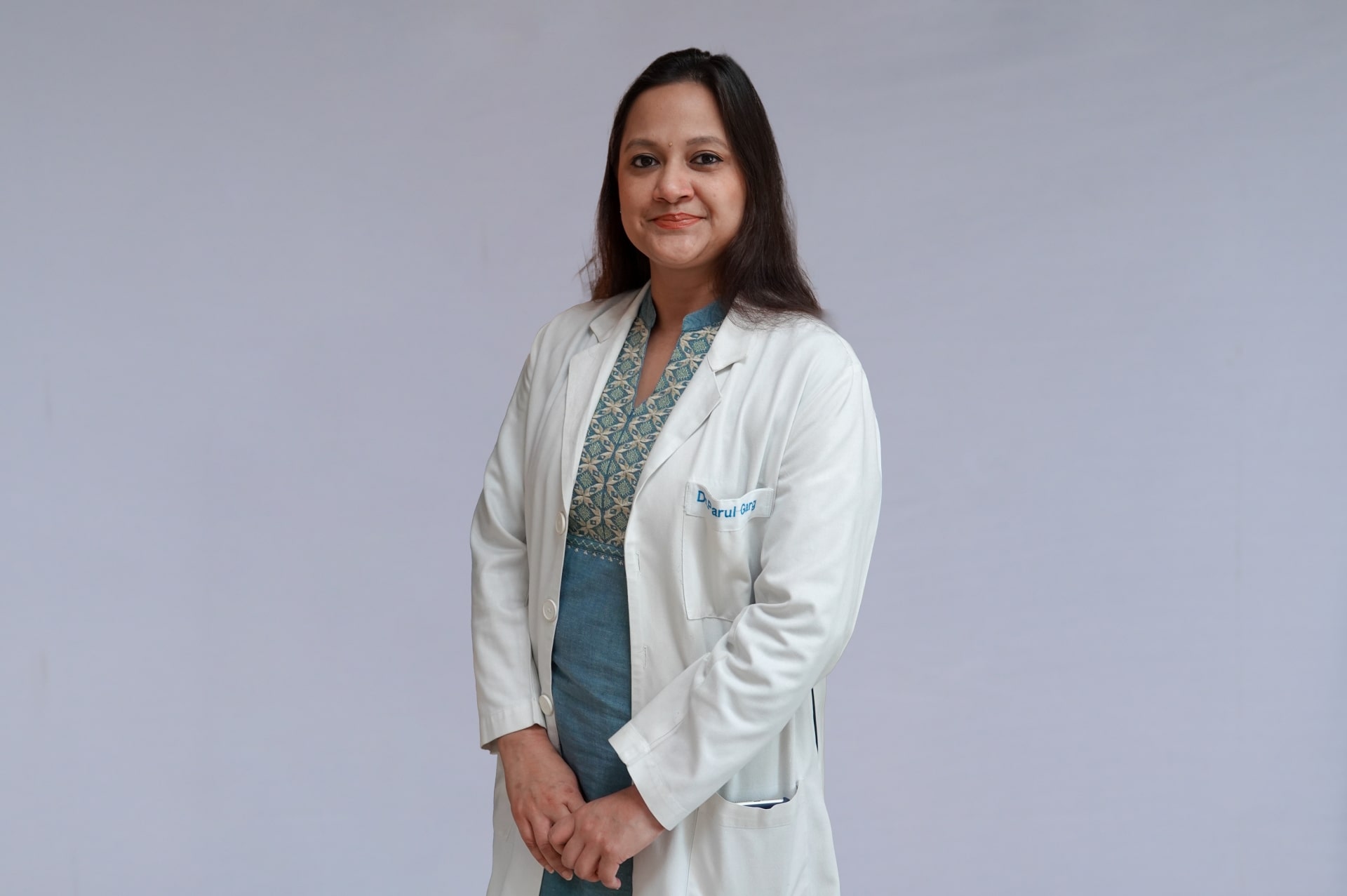 Department of Interventional Radiology (IR) is lead by:
Dr. Parul Garg
MBBS, MD, DNB, Senior Consultant, Interventional Radiologist
Dr Parul Garg is a passionate Doctor with extensive experience in Diagnostic and Interventional Radiology. She's adept in properly diagnosing the patients' problems by her expertise in Diagnostic Radiology and strategizing the best minimally invasive treatments through her experience in Interventional Radiology procedures.
Bringing forward an empathetic and professional attitude, committed to providing best patient care, she's well experienced for counselling her patients for their maximum benefit.
MBBS – LLRM Medical College, Meerut
MD – KGMC, Lucknow
DNB – National Board of Examinations
Senior residency from University College of Medical Sciences, Delhi
Breast Imaging and Interventions – Memorial Sloan Kettering Cancer Care Institute Newyork , USA
Interventional Radiology- Mumbai
Breast Imaging society of India
Indian society of vascular and interventional Radiology
Indian Radiology and Imaging association
Dr Parul garg is a Diagnostic and Interventional Radiologist with more than 18 years of experience.
She has many treatment options for various problems through her expertise in interventional radiology using the least invasive techniques in order to minimize risk to the patient and improve health outcomes. These procedures have less risk, less pain and less recovery time in comparison to open surgery.
Breast imaging and Image guided Breast Interventions- Biopsies, FNAC, Hook wire localisation and Marker placements
Ultrasound and CT guided Biopsies
Ultrasound and CT guided percutaneous Drainage procedures
Fluoroscopy guided fallopian tube recanalization
Endovascular laser ablation of varicose veins (EVLT)
Uterine artery embolization for non surgical treatment of Fibroid
Biliary Interventions – Stenting, Drainage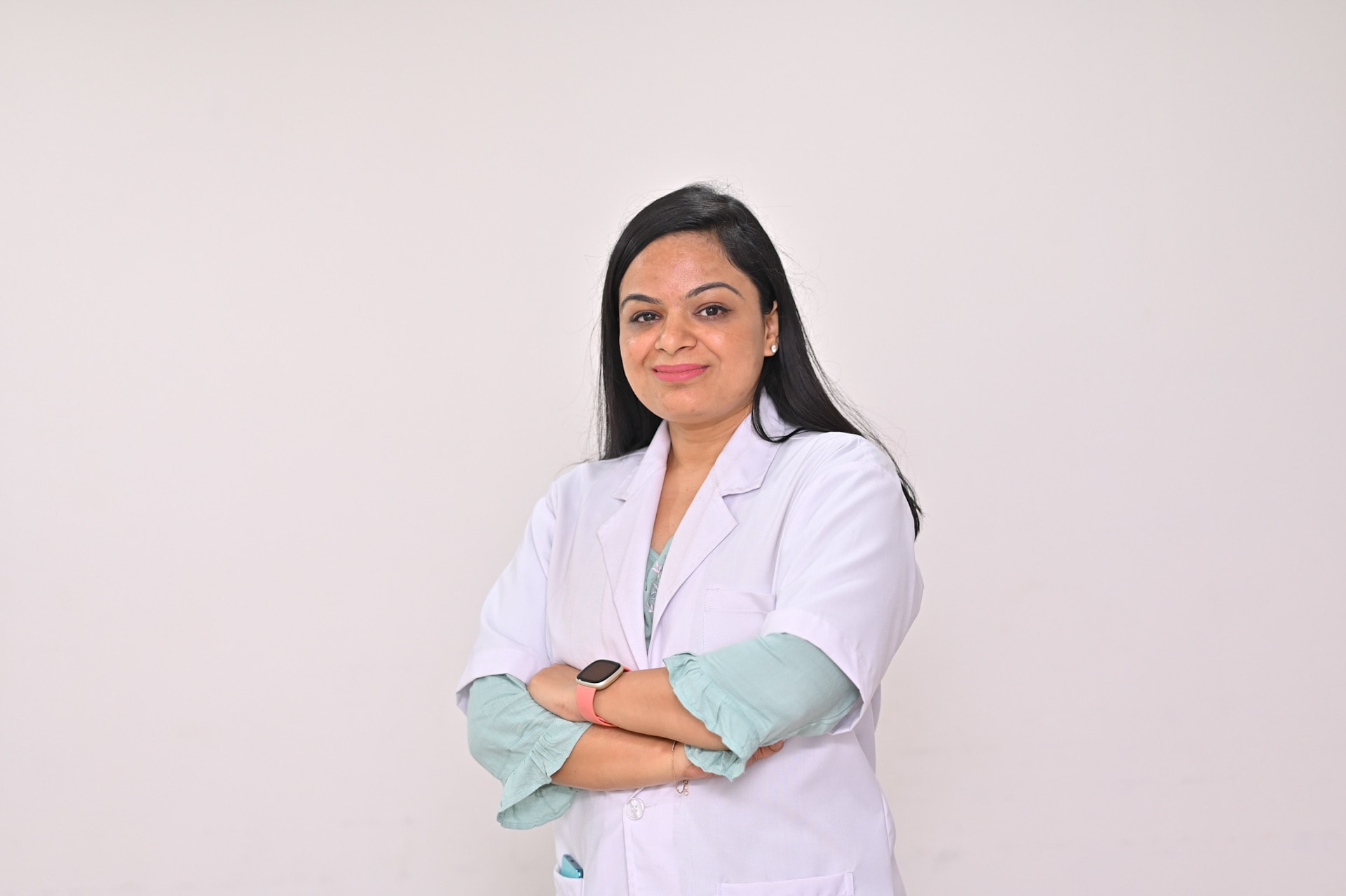 Department of Pathology is lead by:
Dr. Rashi Khemka
MD Pathology, DipRCPath Histopathology
Senior Consultant Histopathologist.
She has done her MBBS & MD Pathology from prestigious college BJ Government medical college, Pune. She also holds a Diplomate in Histopathology from Royal College of Pathologists, UK. She is heading the state of the art laboratory at Aryavart hospital offering vast range of services including histopathology, cytology, hematology, biochemistry, clinical pathology and microbiology. She is known for her excellent histopathology & cytopathology skills and to the point accurate reporting enabling our patients to get early diagnosis & hence prompt further treatment.
She has over 10 years of experience in Histopathology with special interests in oncopathology & gastropathology. Before associating with Aryavart Hospital, she has previously worked at Delhi State Cancer Institute in oncopathology after which she was associated with few corporate labs including SRL & Pathkind Labs in key roles.
EBUS, EUS, CT & USG guided FNACs and biopsies
Endoscopic biopsies, brush cytology and crush cytology
Histopathology of surgical specimens from various departments including Gastro-surgery, general surgery and urosurgery.
Bone marrow procedures and examination.
All routine lab services including hematology, clinical pathology, biochemistry and microbiology.
Blood banking services.
Department of Pediatrics is lead by:
Dr. Divya Bansal
MBBS, D.C.H
Senior Consultant New Born & Child Specialist
Being a pediatrician is a huge responsibility involving the child's and the parent's well-being. A childcare specialist or a pediatrician ensures that your child is healthy and disease-free. We understand this responsibility as much as you do and take utmost care of your little one, pre and post-birth. Having an exceptional bond with children, our doctor, Dr. Divya Bansal is a Pediatrician and Neonatology Specialist in Meerut, has been practicing since 2009. She is committed to truly caring about the well-being of your child. With 14 years of experience in Pediatrics and Neonatology, you can be assured that she will give your child the best possible care and treatment. She completed her MBBS and D.C.H-(Pediatrics)from HIMS, Dehradun, Currently, she has been actively participating in various conferences and  regular trainings and is always updated with newer modalities of treatment. She has special interest in pediatric gastroenterology and has been catering to all medical needs of newborns, infants, children, and adolescents. She possesses a great fondness towards children, as the same is very well reflected in her dedication and concern towards them and her work in the field of childcare. she regularly shares important tips of child care via various social media platforms like Instagram, Facebook, etc
With our expert, we ensure that your child receives the best care with all tenderness.
Life member, Central Indian Academy of Pediatrics , Meerut Acady of Pediatrics, LifebMember NOCIQN
Received various awards from dignified institutes,newspapers, and deputy CM ( Mr. Brijesh Pathak)for her exceptional work during Covid times.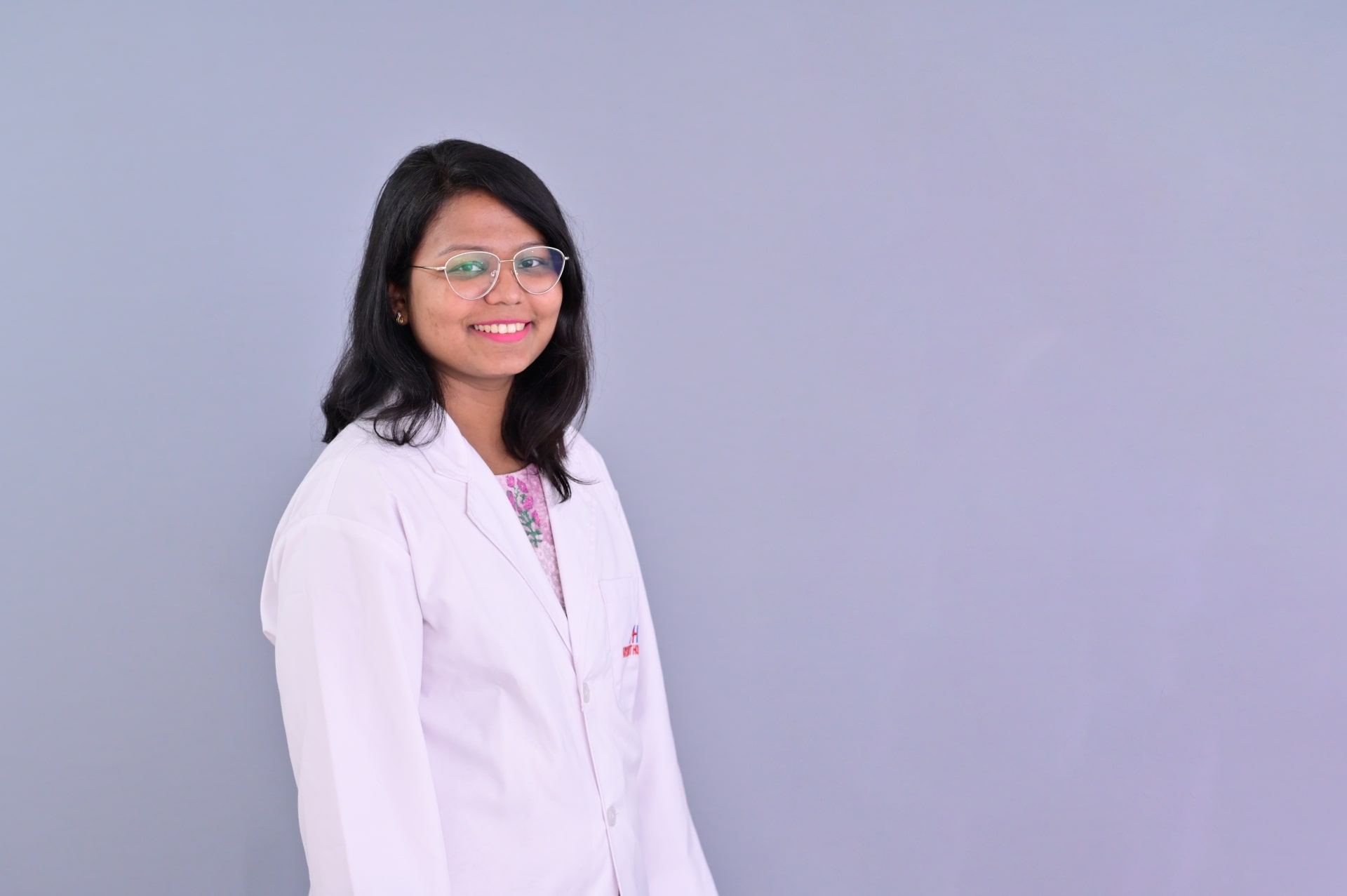 Department of CT Scan is lead by:
Dr. Sushama Kaushik
MBBS, MD (Radiology)
Senior Consultant Radiologist
Head of CT scan Department
Dr. Sushama Kaushik is a Radiologist with 8 years of experience.
She excels in Diagnostic Radiology and is Expert in Cross Sectional Imaging which includes CT and MRI, She also excels in Diagnostic Ultrasonography and Conventional Radiography (X rays).
She has done her MBBS from Renowned Mumbai's Lokmanya Tilak Medical College.
Her Post graduation in Radiology is from Shri M P Government Medical College, Gujarat.
She has been a Post Graduation NEET examination entrance topper in her College.
She is currently the Head of CT department at Aryavart Hospital.
She has done additional Radiology Training in Prestigious Top institutions like AIIMS Delhi, PGI Chandigarh and NIMHANS Bangalore.
She has past experience as a Teaching Faculty (Assistant Professor) as wellness
Department of General Surgery & Minimal Access
Department of General Surgery & Minimal Access is lead by:
Dr. Vivek Bansal
MBBS, (MS) General Surgery (Gold Medalist)
Dr. Vivek Bansal is MS General Surgery (Gold Medalist) with Fellowship in Minimal Access Surgery. He is Laparoscopic and General Surgeon in Aryavart Hospital. He has keen interest in Laparoscopic Surgeries and GI Surgeries.
He has a vast clinical and surgical experience of 24 years in diagnosis and management of Surgical patients. He is known for his humble and benevolent nature and compassionate patient care.
Visit Us
KH-1453, Daurala, NH-58,
Near Sivaya Toll Plaza,
Roorke Road, Meerut (U.P.)
PIN-250221